Molina Art Gallery and Studio
930 8th AVE.
Greeley, CO 80631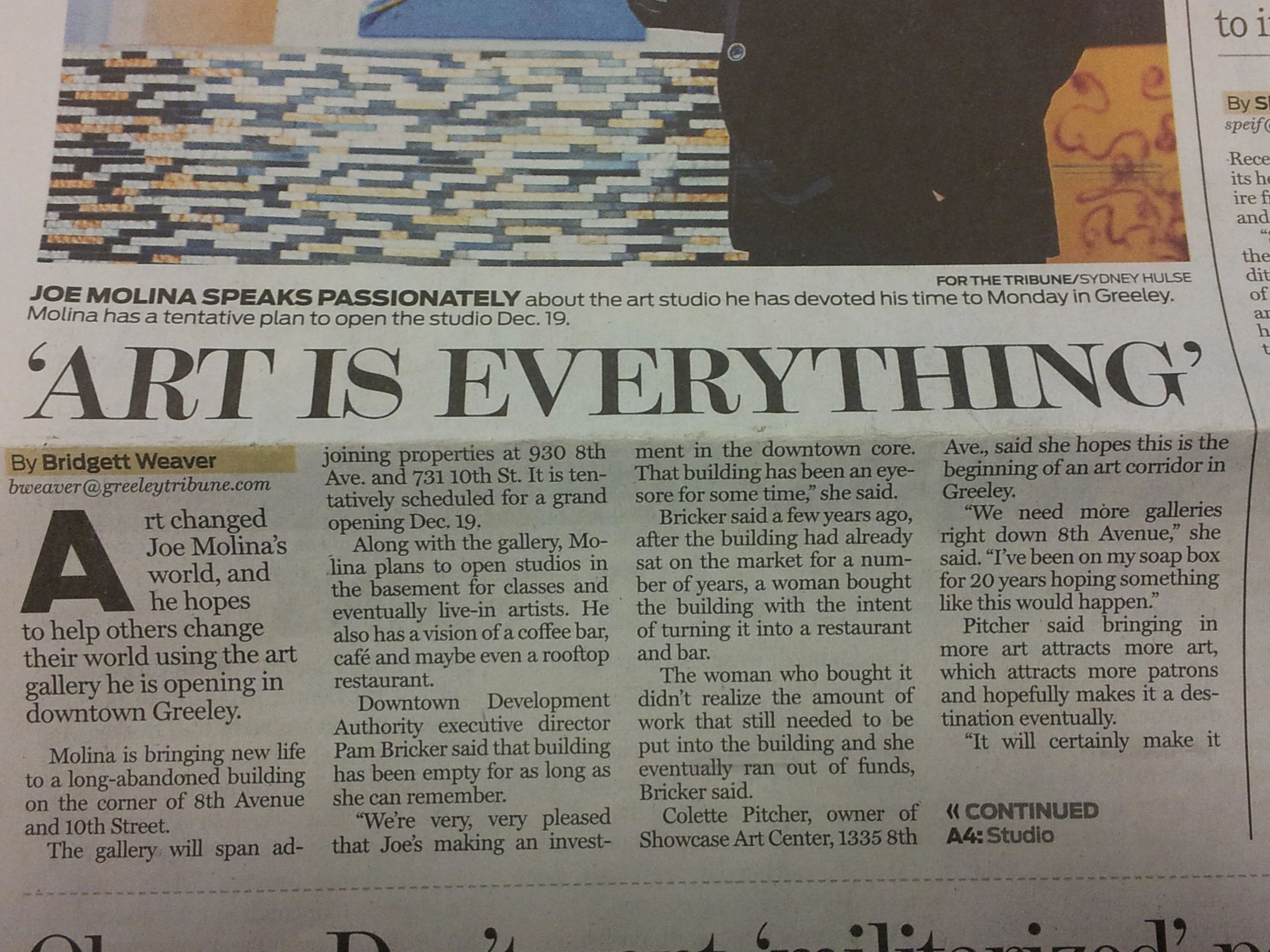 "Art Is Everything"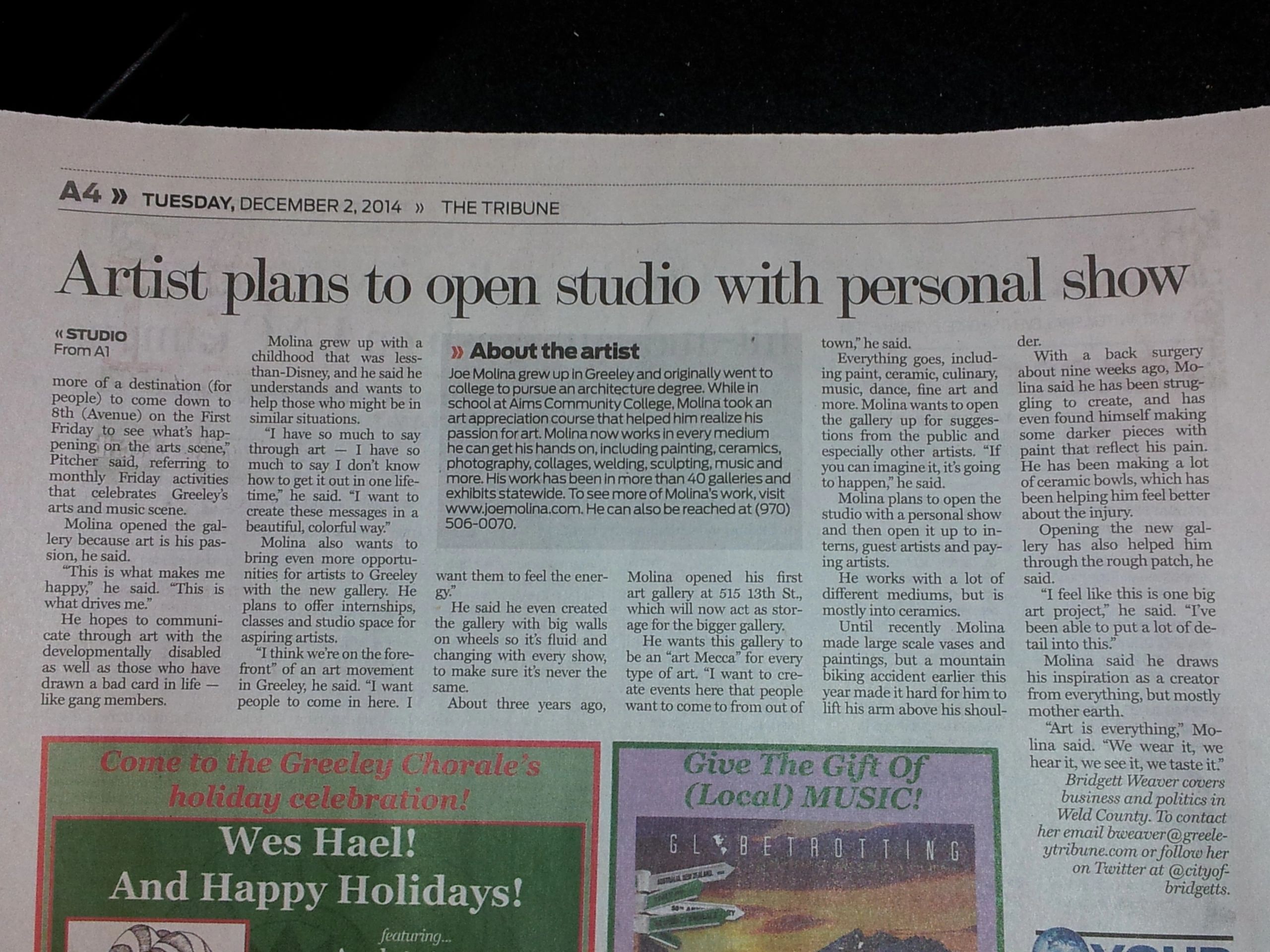 Artist Joe Molina plans to open Studio.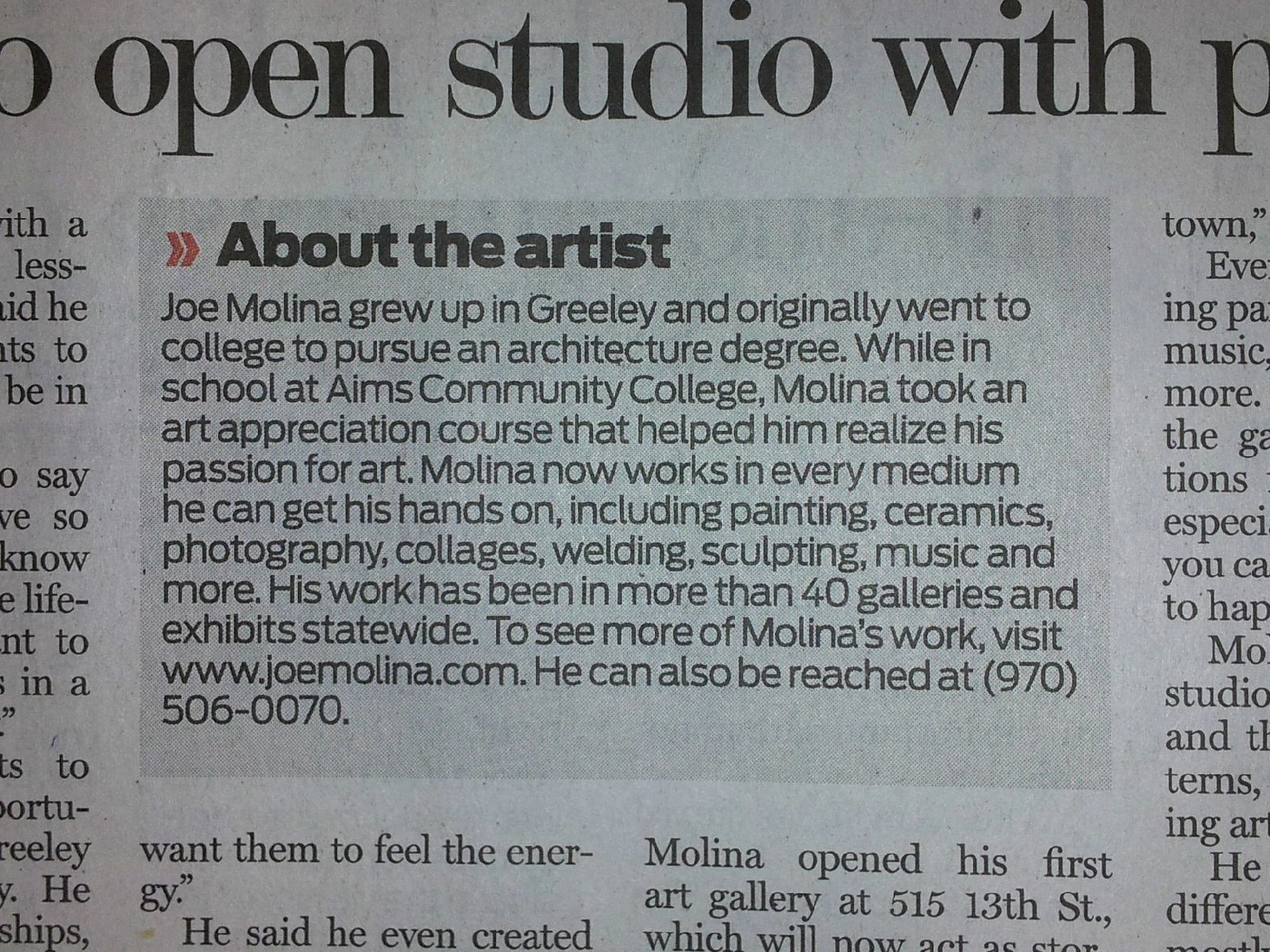 About Joe Molina
"Art is everything"
December , 2 2014

Art changed Joe Molina's world, and he hopes to help others change their world using the art gallery he is opening in downtown Greeley.
Molina is bringing new life to a long-abandoned building on the corner of 8th Avenue and 10th Street.
The gallery will span adjoining properties at 930 8th Ave. and 731 10th St. It is tentatively scheduled for a grand opening Dec. 19.
Along with the gallery, Molina plans to open studios in the basement for classes and eventually live-in artists. He also has a vision of a coffee bar, café and maybe even a rooftop restaurant.
Downtown Development Authority executive director Pam Bricker said that building has been empty for as long as she can remember.
"Art is everything," Molina said. "We wear it, we hear it, we see it, we taste it."
"We're very, very pleased that Joe's making an investment in the downtown core. That building has been an eyesore for some time," she said.
Bricker said a few years ago, after the building had already sat on the market for a number of years, a woman bought the building with the intent of turning it into a restaurant and bar.
The woman who bought it didn't realize the amount of work that still needed to be put into the building and she eventually ran out of funds, Bricker said.
Colette Pitcher, owner of Showcase Art Center, 1335 8th Ave., said she hopes this is the beginning of an art corridor in Greeley.
"We need more galleries right down 8th Avenue," she said. "I've been on my soap box for 20 years hoping something like this would happen."
Pitcher said bringing in more art attracts more art, which attracts more patrons and hopefully makes it a destination eventually.
"It will certainly make it more of a destination (for people) to come down to 8th (Avenue) on the First Friday to see what's happening on the arts scene," Pitcher said, referring to monthly Friday activities that celebrates Greeley's arts and music scene.
Molina opened the gallery because art is his passion, he said.
"This is what makes me happy," he said. "This is what drives me."
He hopes to communicate through art with the developmentally disabled as well as those who have drawn a bad card in life — like gang members.
Molina grew up with a childhood that was less-than-Disney, and he said he understands and wants to help those who might be in similar situations.
"I have so much to say through art — I have so much to say I don't know how to get it out in one lifetime," he said. "I want to create these messages in a beautiful, colorful way."
Molina also wants to bring even more opportunities for artists to Greeley with the new gallery. He plans to offer internships, classes and studio space for aspiring artists.
"I think we're on the forefront" of an art movement in Greeley, he said. "I want people to come in here. I want them to feel the energy."
He said he even created the gallery with big walls on wheels so it's fluid and changing with every show, to make sure it's never the same.
About three years ago, Molina opened his first art gallery at 515 13th St., which will now act as storage for the bigger gallery.
He wants this gallery to be an "art Mecca" for every type of art. "I want to create events here that people want to come to from out of town," he said.
Everything goes, including paint, ceramic, culinary, music, dance, fine art and more. Molina wants to open the gallery up for suggestions from the public and especially other artists. "If you can imagine it, it's going to happen," he said.
Molina plans to open the studio with a personal show and then open it up to interns, guest artists and paying artists.
He works with a lot of different mediums, but is mostly into ceramics.
Until recently Molina made large scale vases and paintings, but a mountain biking accident earlier this year made it hard for him to lift his arm above his shoulder.
With a back surgery about nine weeks ago, Molina said he has been struggling to create, and has even found himself making some darker pieces with paint that reflect his pain. He has been making a lot of ceramic bowls, which has been helping him feel better about the injury.
Opening the new gallery has also helped him through the rough patch, he said.
"I feel like this is one big art project," he said. "I've been able to put a lot of detail into this."
Molina said he draws his inspiration as a creator from everything, but mostly mother earth.
"Art is everything," Molina said. "We wear it, we hear it, we see it, we taste it."
About the artist
Joe Molina grew up in Greeley and originally went to college to pursue an architecture degree. While in school at Aims Community College, Molina took an art appreciation course that helped him realize his passion for art. Molina now works in every medium he can get his hands on, including painting, ceramics, photography, collages, welding, sculpting, music and more. His work has been in more than 40 galleries and exhibits statewide. To see more of Molina's work, visit www.joemolina.com. He can also be reached at (970) 506-0070.
Bridgett Weaver covers business and politics in Weld County. To contact her email bweaver@greeleytribune.com
cache/wst.opf.2601582.xml
Local artist hits the scene doing everything from paintings to pottery
March, 29 2012
By Joshua Espinoza
jespinoza@greeleytribune.com
A quick glance at his accomplishments can induce intimidation.
His repertoire includes pottery, paintings, photography, collages, music and mixed media. His work has been displayed in more than 40 galleries and exhibits statewide. About three weeks ago, he opened his own studio in downtown Greeley to house his collection and provide ample space to create. And he was recently selected as a featured artist in this year's American Crafts Festival at the Lincoln Center of Performing Arts in New York City.
It would seem as though Joe Molina has no trouble doing anything he sets his mind to.
Maybe except for one thing: Explaining how all this success happened in less than a year.
Molina hadn't seriously pursued art until last summer after taking a required course at Aims Community College. Once those instructors threw a ball of clay at him, he fell in love with it from there.
"It was kind of like that movie 'Phenomenon,' where John Travolta gets hit by a bolt of lighting," Molina said and laughed as he stood in his 13th Street studio on a Tuesday morning. "I don't really know why it all happened so fast, I really don't. To be honest, I wasn't planning this at all. I had a different path that I thought I was going to go down. But time changes everything."
As a child, Molina had always been called a day-dreamer — someone who fearlessly pursued anything that sparked his interest. He continued to possess that mentality throughout his life, taking up a wide range of occupations ranging from a middle school wrestling coach to a professional DJ, construction manager and substitute teacher.
It's no wonder people call him a chameleon.
"There's so much I've wanted to do, and I've always gone after it," he said. "I've been told I was going to fail, that I wasn't going to graduate. I've been told a lot of things that weren't very nice, but it hardened me to the point where I knew it didn't matter. I was going to succeed in my life the way I wanted, not the way they wanted."
Molina accomplished a lot in a year, but he insists it did not come easy. He remembers times he was up until 3 a.m. working on his craft, or waiting outside the Aims art studio for workers to open the doors for the day. From the start, he couldn't get enough of art and the outlet it provided to express himself.
As a self-described abstract impressionist, Molina draws inspiration from all aspects of life, whether it be from his poverty-stricken childhood, natural disasters around the world or foreign places he dreams to see one day. His use of bright colors and strong visible brush strokes are consistent throughout his artwork, whether depicting the 2011 Japanese tsunami or an American Indian warrior or an African sunset.
He's clearly developed his own style and approach to painting, but his primary passion lies in pottery, specifically that which is made through the raku process — a Japanese firing technique that involves heating the pottery quickly at high temperatures and then cooling it very fast.
"When I create these vases, it's dangerous," he said. "These have to be taken out of the kiln at 2,000 degrees Fahrenheit while they're glowing red-hot. It's literally playing with fire. But it creates beautiful things."
For the next two months, Molina will be hard at work boosting his inventory in preparation for his New York shows. Within that time, he hopes to go from 115 pottery pieces to 300 and from 25 paintings to 50, he said. However, he welcomes the pressure.
"I have a lot of work ahead of me, but I look forward to it because it gives me such sheer joy," he said. "I feel this is a gift that was given to me, that it has always been there, but I just didn't know how to let it out until I became an artist. Like in my previous jobs, I'm just trying to tell my story and share my visions, but now I'm doing it in an abstract way."
Local artist plans space to share creating

Whitney Phillips
wphillips@greeleytribune.com
May 4, 2014
For artist Joe Molina, the paintings, photos and pottery that adorn the warehouse walls of his east Greeley gallery are more than representations of the places he's been and things he sees in his dreams.
As he put it, they're his sanctuary.
"I've always been waiting to find my own castle, my own peace," he said.
Molina, who spent most of his youth in Greeley and opened his first gallery downtown about three years ago, said he's always found peace in art, but he's only recently made creating his full-time job. As he solidifies plans to expand here, he said he's most excited about building a space where other artists and residents can create with him.
"I want everyone to be able to feel what I feel here," he said.
Growing up, Molina said his family faced poverty, and he coped by working on repair projects or building things. He often found comfort in climbing trees, he said, which are now prevalent in his artwork.
"That was my escape," he said.
Molina said he attended Aims Community College, interested in becoming a counselor, but he didn't find the same joy in that field as he did in art. He decided to put all his chips down on becoming a full-time artist.
"I needed to get a message out," he said. "I needed to try to communicate that with people in a way that they would understand."
Since he dedicated his time to creating, Molina — who describes himself as an abstract impressionist — has worked in many different mediums, including clay, paint and film. Molina also is a DJ, and he has crates of records stacked in the gallery's attic along with his artwork.
"I can't create without music," he said.
After just a few years, Molina is mentoring several interns from the University of Northern Colorado and Aims, all of whom work in his studio. He said he's in negotiations to secure a larger space, one that would allow him and other artists space to work.
"I want to be able to help people move to the next level," he said.
Molina's art was featured in the 2012 American Crafts Festival at the Lincoln Center of Performing Arts in New York City. He provided art for this year's Kentucky Derby-themed party in Windsor, which benefited local charities, and his gallery also has been part of Greeley's First Friday: A Night of Art. His work has been featured in galleries across the state, and he'll also take part in Denver's Cherry Blossom Festival in June.
Beyond galleries and showings, Molina said he has a much bigger vision in mind, one that involves reproducing his clay bowls as part of a campaign to raise awareness for hunger worldwide. He said he ultimately hopes to provide jobs by hiring employees to help make the bowls.
For that and other projects, Molina's goal is to work with other local artists.
"I really want to stress collaboration," he said. "I'm just one man."